In today's fast-paced world, security is a top priority for individuals and organizations alike. Whether it's protecting our homes, businesses, or personal belongings, we are constantly seeking innovative ways to enhance security measures. One of the most effective means of improving security is through electronic sensor support.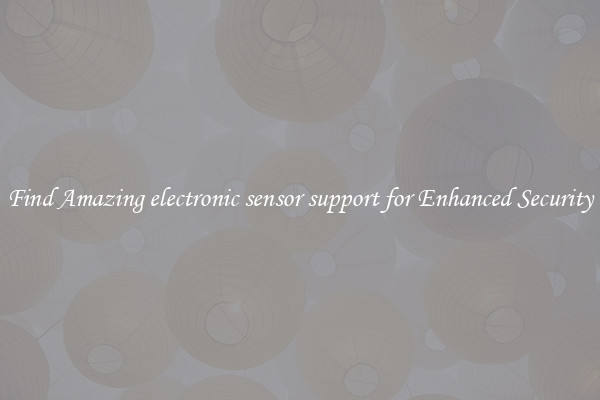 Electronic sensors play an integral role in modern security systems, providing real-time monitoring and detection capabilities. These sensors are designed to detect various elements such as motion, heat, light, or sound, enabling us to take immediate action when a potential threat is identified. The advancements in sensor technology have resulted in more accurate and reliable security systems that are capable of detecting even the most subtle changes in the surrounding environment.
One of the remarkable features of electronic sensor support is its versatility. These sensors can be used in a wide range of security applications, including but not limited to home security systems, industrial surveillance, and perimeter monitoring. For example, motion sensors are commonly used in residences to detect any unauthorized movement inside or outside the property. In industrial settings, sensors can be utilized to monitor critical equipment, ensuring operational efficiency while minimizing the risk of unauthorized access.
By incorporating electronic sensor support into security systems, the effectiveness of traditional security measures is multiplied. For instance, combining CCTV cameras with motion sensors enables a system to automatically start recording once motion is detected within the camera's field of view. Not only does this feature improve security by capturing potential intruders on video, but it also saves storage space as the system only records when necessary.
Electronic sensor support also enhances security by providing real-time alerts and notifications. When a sensor detects unusual activity or a breach, it can immediately trigger an alarm, send a notification to the property owner's smartphone, or even initiate emergency protocols. This enables prompt action to be taken, such as alerting law enforcement, minimizing the potential damage or preventing a crime from occurring altogether.
Moreover, electronic sensor support has evolved to include smart home integration. With the rise of the Internet of Things (IoT), security systems can now be interconnected and controlled remotely through mobile applications and voice assistants. This means that homeowners can conveniently manage their security systems from anywhere in the world, receiving notifications and video feeds directly on their smartphones. This seamless integration between sensors and smart devices further enhances the overall security experience.
In conclusion, electronic sensor support is an incredible asset in today's security landscape. Its versatility, accuracy, and ability to provide real-time alerts make it an essential component of enhanced security systems. With the ever-advancing technology, we can expect even more advanced sensors to be developed, further strengthening our ability to protect our homes and businesses.