When it comes to fashion, jackets are not only practical for keeping us warm, but they can also add a stylish touch to any outfit. From classic designs to trendy pieces, there are a plethora of jacket styles to choose from that can provide both comfort and style.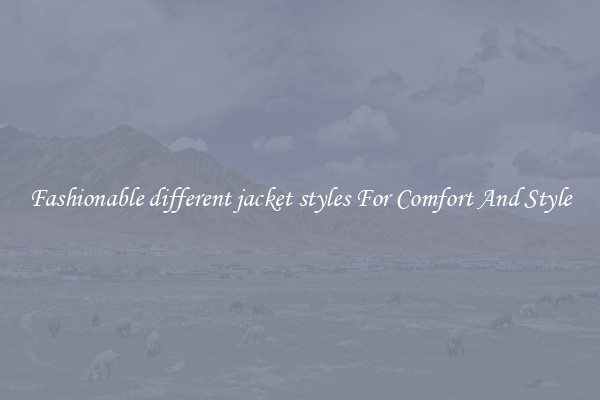 One popular jacket style that has stood the test of time is the classic leather jacket. Whether it's a biker jacket or a bomber style, leather jackets exude a cool and edgy vibe. They can be paired with jeans and a t-shirt for a casual, yet stylish look or thrown over a dress for a more feminine touch. The versatility of leather jackets makes them a timeless piece that will never go out of style.
For those looking for a more relaxed and comfortable jacket option, the oversized or boyfriend jacket is a must-have. With its loose and slouchy fit, this style is perfect for layering over chunky sweaters or hoodies during colder months. It can be worn with jeans or leggings for a laid-back and effortless look. An oversized jacket can also be cinched at the waist with a belt for a more polished silhouette.
If you're seeking a jacket that adds a touch of sophistication to any outfit, a tailored blazer is the way to go. Blazers are incredibly versatile and can be dressed up or down depending on the occasion. They can be worn with a blouse and trousers for a chic business look or paired with a graphic t-shirt and jeans for a more casual outfit. A well-fitted blazer can instantly elevate any ensemble, making it a staple in every fashion-savvy individual's wardrobe.
For those who love a touch of femininity in their outfits, a floral or embroidered bomber jacket can be the perfect choice. These jackets feature intricate designs that add a pop of color and interest to any look. They can be paired with a simple dress or jeans and a basic top for a fun and fashionable ensemble. Embroidered jackets are all the rage right now, and they are an excellent way to show off your personality through your style.
In conclusion, jackets are not only necessary for staying warm during chilly weather, but they also serve as a great fashion statement. From timeless leather jackets to oversized boyfriend styles, tailored blazers to floral bombers, there is a jacket style for everyone. So, why compromise on comfort when you can have both comfort and style in your wardrobe? It's time to experiment with different jacket styles and add a touch of flair to your outfits.